PRESS
AREA
EMS in the press. See what the press says about EMS and GBT.
Result: 54
2021
Patientenakzeptanz nach Umstellung auf «Guided Biofilm Therapy»
Patientenakzeptanz nach Umstellung auf «Guided Biofilm Therapy», Swiss Dental Journal 03/2021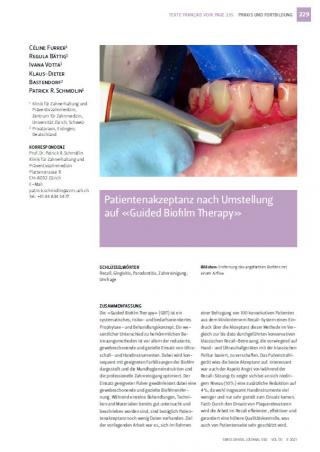 2021
Alla conquista del biofilm sui brackets
Il protocollo GBT consente la rapida eliminazione del biofilm e del tartaro nei pazienti con apparecchi ortodontici.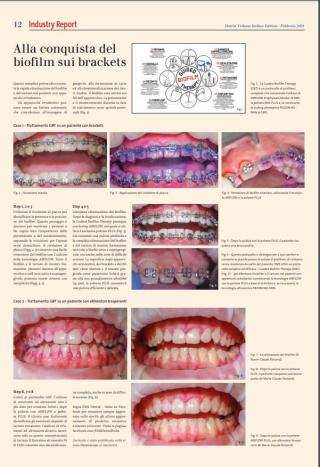 2021
Why is PIEZON® PS Instrument my tool of choice?
Calculus removal is an essential step for periodontal disease prevention and treatment. Ultrasonic scaling saves us from long hours of manual scaling and achieves superior results.1 Along with the the micro-vibrations' mechanical action, ultrasonic scalers generate acoustic streaming and cavitation in the cooling water flowing along the tip, helping the debridement. However, not all ultrasonic scalers
are the same. The EMS PIEZON®, a piezo-ceramic ultrasonic device, is well known and widely used because of the gentle yet very effective treatment that it delivers. Here are some reasons why PIEZON® is also my absolute favourite tool.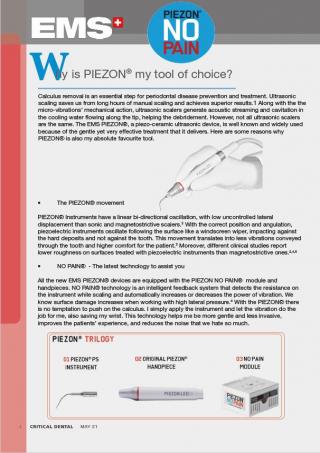 2021
S.O.S. Save Our Smiles: rafforzare il sistema immunitario e preservare il sorriso
Soprattutto durante la pandemia Covid-19, la salute orale è più importante che mai. Con la campagna "S.O.S. Save our Smiles", EMS ora mette in guardia esplicitamente dai pericoli derivanti dall'uso di prodotti cosiddetti "compatibili", copiati o contraffatti.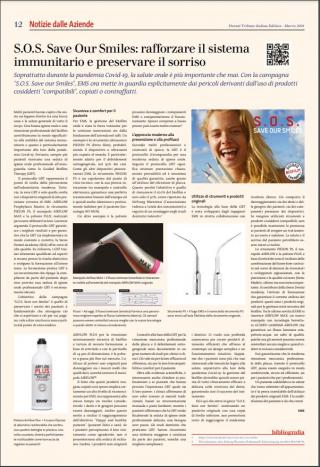 2021
La GBT introduce il nuovo standard nell'Airflowing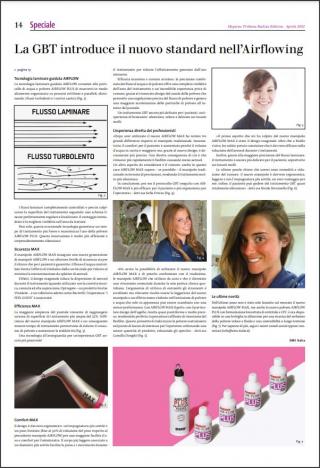 2021
Zahnmedizinische Prophylaxe in Zeiten der Covid-19 Pandemie - Eine kritische Analyse/Nachbetrachtung
Seit gut einem Jahr bestimmt das aus Wuhan (China) stammende SARS‑CoV‑2-Virus (Severe Acute Respiratory Syndrome) das öffentliche, private und berufliche Leben.
Die WHO erklärte COVID-19 am 11.03.2020 zur Pandemie, wies auf "alarmierende Werte" in Bezug auf Ausbreitung und Schwere der Erkrankung hin und bestätigte,
dass es sich um eine durch ein Coronavirus verursachte Pandemie handelt [1].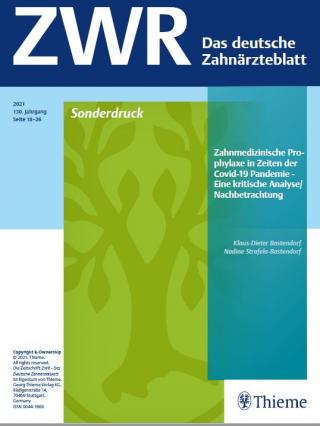 2021
In odontoiatria si fa strada un sostituto dello zucchero
L'eritritolo, un sostituto dello zucchero, è noto come agente per dolcificare alimenti a ridotto contenuto calorico, prodotti da forno e caramelle. Finora, poca attenzione è stata dedicata agli effetti positivi dell'eritritolo sulla composizione del biofilm orale, che rendono la sostanza sempre più interessante per la prevenzione domiciliare della carie e della parodontite. Inoltre, questi dolci cristalli bianchi giocano anche un ruolo importante nella tecnica di Air Polishing, in quanto polvere poco abrasiva.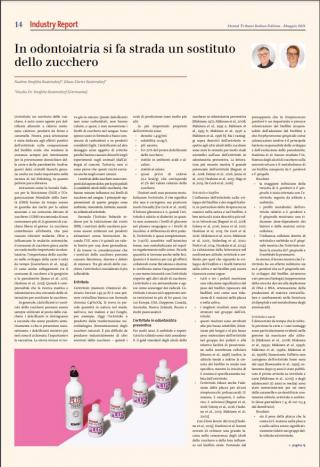 2021
Wie Sie bei der PZR die beste Qualität erreichen
Der Biofilm muss vollständig entfernt werden, nur das verringert das Risiko von Karies, gingivalen, parodontalen und periimplantären Erkrankungen.
Patienten verdienen das klinisch effektivste Biofilm-Management. Dieses sollte zugleich schonend und angenehm sein. Wie dies sicher gelingt, erklärt die Dentalhygienikerin Adina Mauder, GBT-Trainerin der Swiss Dental Acacemy (SDA).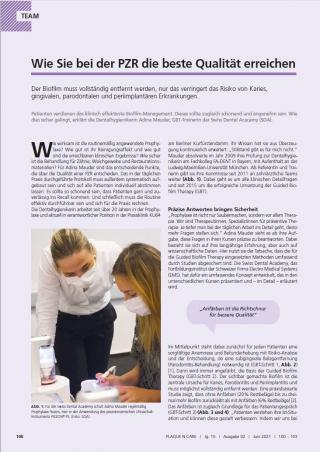 2021
I pazienti cercano il comfort: come garantire un trattamento efficace e confortevole?
Gli utilizzatori di ablatori a ultrasuoni erano tradizionalmente alla ricerca di strumenti altamente efficaci per rimuovere il tartaro rapidamente. Tuttavia, da anni la frequenza dei richiami è aumentata e in proporzione i pazienti presentano situazioni con minore tartaro calcificato rispetto ai trattamenti iniziali: questo trend può essere interpretato con la ricerca di maggiore comfort nella seduta e la necessità di strumentazione più sottile, caratterizzata da maggiore delicatezza.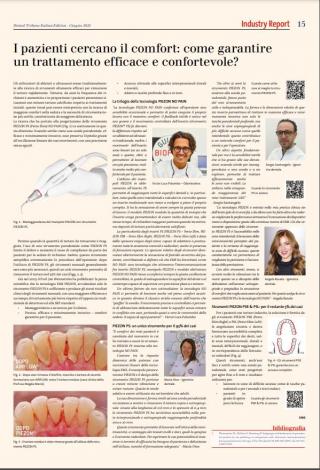 2021
Dental Prophylaxis in Times of the COVID-19 Pandemic – a Critical Analysis/Review
For over a year now, the SARS‑CoV‑2 (Severe Acute Respiratory Syndrome Corona-Virus type 2) virus originating in Wuhan (China) has dominated public, private and professional life. On 11 March 2020, the WHO declared COVID-19 a pandemic, referring to the "alarming levels" of spread and the severity of the disease, confirming that it is a pandemic caused by a coronavirus [1].