PRESS
AREA
EMS in the press. See what the press says about EMS and GBT.
Result: 23
2021
"Nur bei vollständig entferntem Biofilm sind wir sicher" Interview aus Plaque N Care 01/2021
Prophylaxe nach dem Stand der Technik ist zugleich klinisch wirksam, sanft und substanzschonend. Nicole Einemann und Manuela Cordes, zwei erfahrene Dentalhygienikerinnen, berichten im Interview über ihre Erfahrungen mit einer modernen Version der Prophylaxestunde von Axelsson und Lindhe.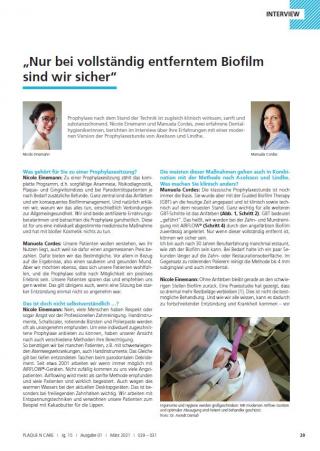 2021
Comfortable and gentle for all patients
To begin with, do you have a hygienist in your surgery?
If your answer is yes, go to the end of this article.*
If your answer is no, then read on. It's not often that a truly unique and revolutionary product and solution comes into dentistry. GUIDED BIOFILM THERAPY (GBT) is a method of biofilm management inclusive of AIRFLOW®, PERIOFLOW® and PIEZON® technologies, invented by EMS.
This systematic, predictable method of biofilm management features the intentional removal of biofilm using AIRFLOW® technology prior to the instrumentation of hard deposits. AIRFLOW® technology is a combination of air, the finest powder in dentistry and warm water that creates a spray that gently exfoliate teeth without any device physically touching the tooth.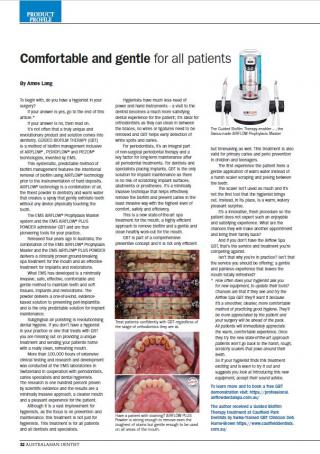 2021
Conventional versus comprehensive dental prophylaxis
comparing the clinical outcomes between rubber cup and air polishing and the importance of plaque disclosure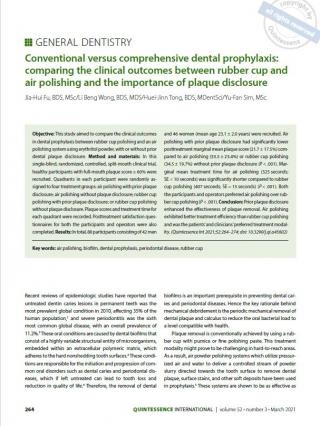 2021
Acceptation des patients après passage à la « Guided Biofilm Therapy »
Acceptation des patients après passage à la « Guided Biofilm Therapy », Swiss Dental Journal 03/2021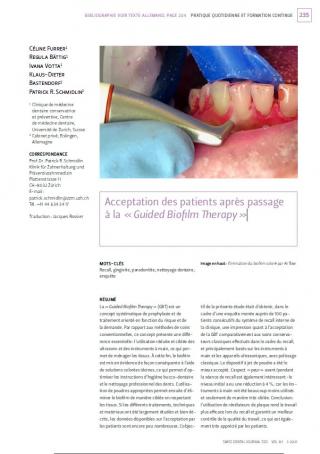 2021
Patientenakzeptanz nach Umstellung auf «Guided Biofilm Therapy»
Patientenakzeptanz nach Umstellung auf «Guided Biofilm Therapy», Swiss Dental Journal 03/2021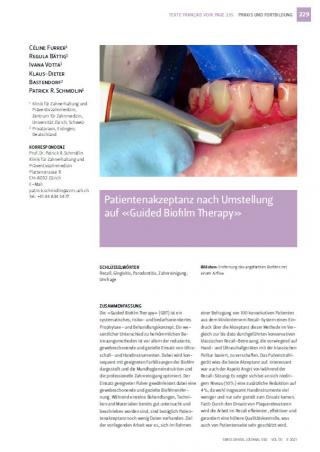 2020
AEROSOLS IN DENTISTRY - The bacterial contamination of the room air during an AIRFLOW® treatment
Descriptive Text that should appear.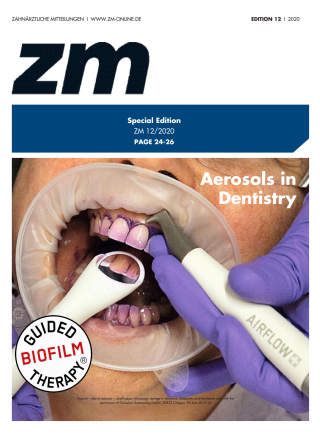 2020
AEROSOLE BEIM ZAHNARTZT - Die bakterielle Kontamination der Raumluft während einer AIRFLOW®-Behandlung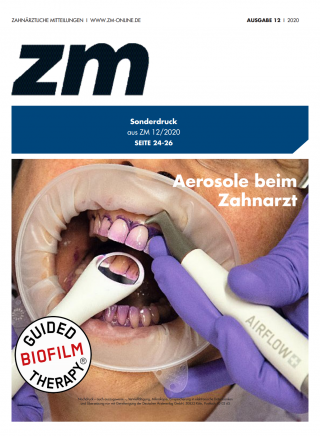 2020
Mein Praxis-Prophylaxe-Konzept
Im vorliegenden Artikel stelle ich mein Praxis-Prophylaxe-Konzept vor. Diesem Konzept liegt die Recall-Stunde nach Axelsson/Lindhe zugrunde. Das fast 50 Jahre alte Ablaufprotokoll von Axelsson/Lindhe wurde
aufgrund der wissenschaftlichen und technischen Fortschritte – den Empfehlungen der European Federation of Periodontology und den Qualitätsleitlinien in der Präventivzahnmedizin der Schweizerischen Zahnärzte-
Gesellschaft (SSO) und unserer Praxisphilosophie – neu definiert. Mit diesem neuen Ablaufprotokoll bieten wir unseren Patienten eine standardisierte, systematische, moderne und qualitativ hochwertige
Prophylaxe. Neben diesem hohen Standard im Bereich der Struktur- und Prozess-Qualität in der Prophylaxe ist es gelungen, eine hohe Patientenzufriedenheit (Ergebnis-Qualität) für unser Praxis-Prophylaxe-
Konzept zu erreichen.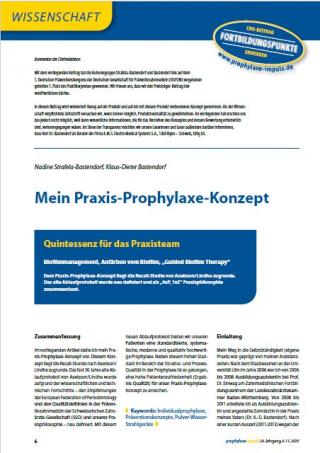 2020
DZ Interview Torsten Fremerey SOS Kampagne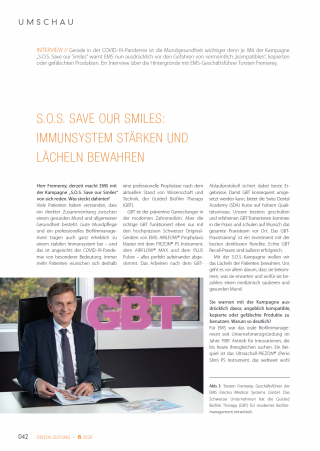 2020
Auf das klinische Protokoll kommt es an - PZR, UPT und GBT
Um die Ziele der Primär-, Sekundär- und Tertiärprävention zu erreichen, ist eine strukturierte Vorgehensweise notwendig. Alle heute praktizierten Ablaufprotokolle gehen auf die tragenden Säulen einer erfolgreichen Prophylaxe (häusliche- und professionelle Mundhygiene) und auf die Recallstunde nach Axelsson und Lindhe zurück, die vor 50 Jahren entwickelt wurde. Wissenschaftliche neue Erkenntnisse zu den Ursachen der oralen Erkrankungen und der technische Fortschritt machen eine Anpassung der Hilfsmittel und des Ablaufprotokolls notwendig. Die Hilfsmittel zum Biofilmmanagement werden im vorliegenden Beitrag ebenso miteinander verglichen wie die aktuell zur Verfügung stehenden vier Ablaufprotokolle Recallstunde, professionelle Zahnreinigung (PZR),
unterstützende Parodontitistherapie (UPT) und "Guided biofilm therapy" (GBT).