PRESS
AREA
EMS in the press. See what the press says about EMS and GBT.
Result: 17
2021
"Nur bei vollständig entferntem Biofilm sind wir sicher" Interview aus Plaque N Care 01/2021
Prophylaxe nach dem Stand der Technik ist zugleich klinisch wirksam, sanft und substanzschonend. Nicole Einemann und Manuela Cordes, zwei erfahrene Dentalhygienikerinnen, berichten im Interview über ihre Erfahrungen mit einer modernen Version der Prophylaxestunde von Axelsson und Lindhe.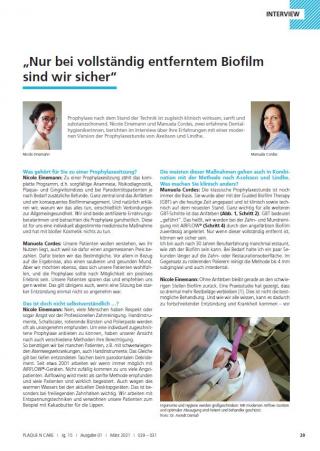 2020
La contamination bactérienne de l'air ambiant lors d'un traitement AIRFLOW®
Des dentistes et des scientifiques, soutenus par EMS, ont mesuré la contamination bactérienne de l'air intérieur pendant un traitement AIRFLOW® dans deux scénarios (sans et avec un équipement de protection spécial). Bien que les résultats de cette enquête ne puissent pas être transposés de manière analogue à une éventuelle charge virale (par exemple SARS-CoV-2) dans l'aérosol, les données montrent une réduction impressionnante de la contamination bactérienne de l'air ambiant si le traitement AIRFLOW® est effectué avec des mesures de protection appropriées.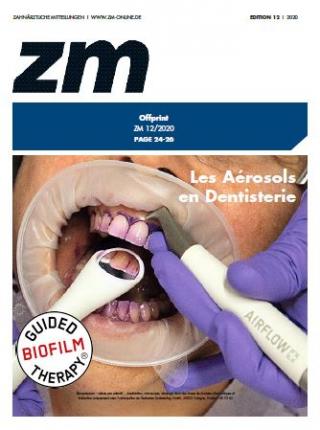 2020
Effects of Fluorides: General Aspects – Fixed Orthodontic Appliances: Caries and Prophylaxis
Enamel and dentine consist mainly of the hard mineral crystalline material "apatite". The tooth surface is in constant contact with its environment: with saliva, biofilm plaque and everything entering the mouth. These include cariogenic and erosive substances as well as substances that promote remineralization. Substances from the dental hard tissue are released into the surrounding fluid and substances from the environment are absorbed into the tooth and deposited in or adsorbed on the crystal lattice. In order for the teeth to remain intact, no more material may be released than is re-integrated: a dynamic equilibrium prevails. To prevent new damage (such as caries or erosion), a balance favorable to the teeth must be maintained. This can be decisively influenced by appropriate nutrition and oral hygiene. Fluoride also has a positive effect on this balance due to its properties. During orthodontic treatment, carious lesions often occur, especially in the area of the front and canine teeth. The brackets are a retention site for the biofilm and the commonly used aids (toothbrush with toothpaste at home, bowl with paste in the practice) do not reach important areas. New methods such as Guided Biofilm Therapy (GBT) and aids for a better cleaning of the bracket environment are presented.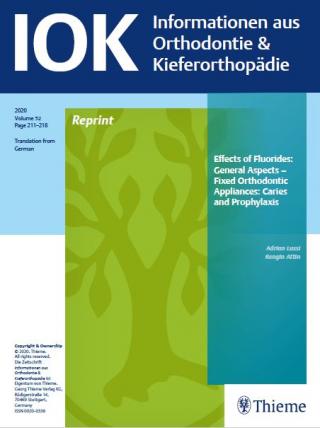 2020
Auf das klinische Protokoll kommt es an - PZR, UPT und GBT
Um die Ziele der Primär-, Sekundär- und Tertiärprävention zu erreichen, ist eine strukturierte Vorgehensweise notwendig. Alle heute praktizierten Ablaufprotokolle gehen auf die tragenden Säulen einer erfolgreichen Prophylaxe (häusliche- und professionelle Mundhygiene) und auf die Recallstunde nach Axelsson und Lindhe zurück, die vor 50 Jahren entwickelt wurde. Wissenschaftliche neue Erkenntnisse zu den Ursachen der oralen Erkrankungen und der technische Fortschritt machen eine Anpassung der Hilfsmittel und des Ablaufprotokolls notwendig. Die Hilfsmittel zum Biofilmmanagement werden im vorliegenden Beitrag ebenso miteinander verglichen wie die aktuell zur Verfügung stehenden vier Ablaufprotokolle Recallstunde, professionelle Zahnreinigung (PZR), unterstützende Parodontitistherapie (UPT) und "Guided biofilm therapy" (GBT).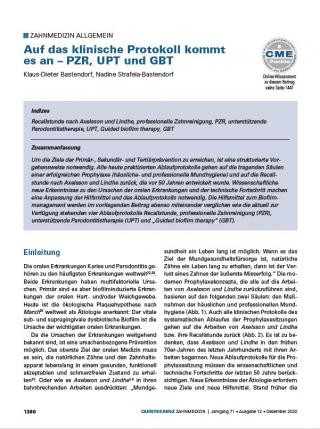 2020
AEROSOLS IN DENTISTRY - The bacterial contamination of the room air during an AIRFLOW® treatment
Descriptive Text that should appear.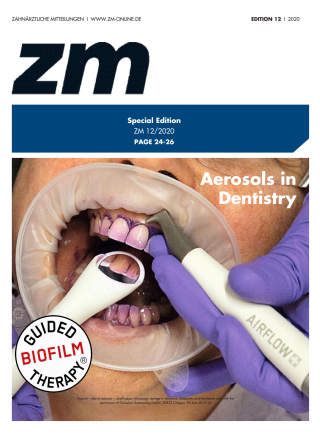 2020
AEROSOLE BEIM ZAHNARTZT - Die bakterielle Kontamination der Raumluft während einer AIRFLOW®-Behandlung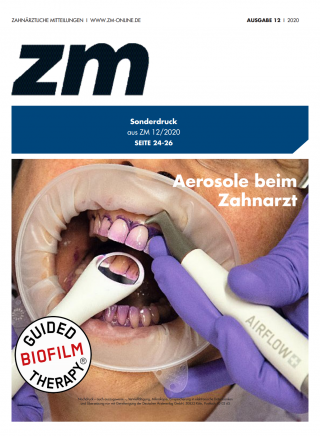 2020
DZ Interview Torsten Fremerey SOS Kampagne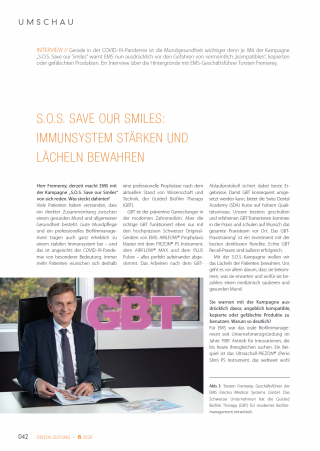 2020
Prophylaxe Journal - Die beste Entscheidung die ich treffen konnte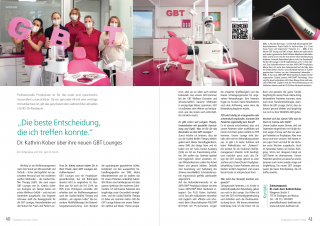 2020
GBT Fragen und Antworten zur systematischen Lösung für das Biofilmmanagement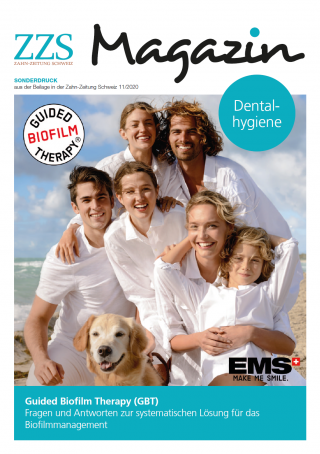 2020
Guided Biofilm Therapy GBT Questions and Answers