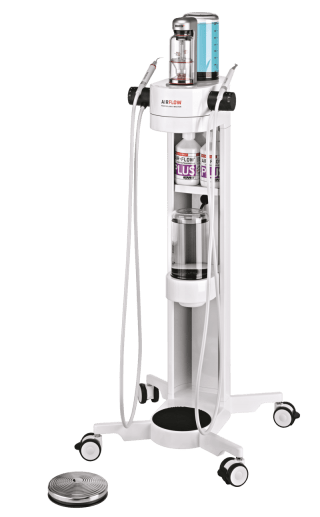 no
ALL-IN-ONE PROPHYLAXIS
STATION
The new AIRFLOW® cart converts the AIRFLOW® Prophylaxis Master and AIRFLOW® One into an ultra-compact prophylaxis station – no water connection needed. The AIRFLOW® STATION+ comes with an autonomous and independent water supply system with 360° movement for greater maneuverability, ideal for easy storage and tight spaces.
---
Seamless Design
Easy to clean and maintain. All cables are stored in the station to eliminate trip hazards.
Ultra-compact
Efficient space management with a 360 movement, ideal for storage and tight spaces.
Independent Bottled Water Supply
No need for an external water connection.
100% Transparent Air Filter
Effortlessly check the air line for impurities.
---
HOW TO: Install your AIRFLOW Station + and fix Airflow Prophylaxis Master on it.
Step by step explanatory video for the set up of the AIRFLOW Station + with Airflow Prophylaxis Master.
Technical data
E.M.S. Electro Medical Systems S.A., Chemin de la Vuarpillière 31, 1260 Nyon, Switzerland
4.5 to 7 bar (450 to 700 kPa)