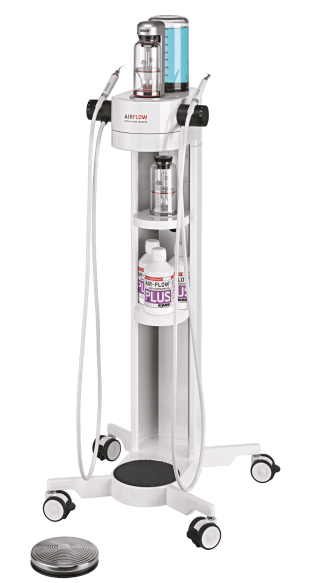 no
ALL-IN-ONE PROPHYLAXIS
STATION
The AIRFLOW® STATION transforms the AIRFLOW® Prophylaxis Master and AIRFLOW® One into a completely mobile 360° station. Thanks to its fully-rotating roller bearings and minimalist design, benefit from greater maneuverability in the tightest of spaces.
Seamless Design
Easy to clean and maintain. All cables are stored in the station to eliminate any trip hazards.
Extremely compact
Efficient space management for greater user comfort.
Easy to Move and to Store
360° movement, ideal for storage and tight spaces.
Extra Storage Space
For additional powder chambers and bottles.
HOW TO: Install your AIRFLOW Station and fix Airflow Prophylaxis Master on it.
Step by step explanatory video for the set up of the AIRFLOW Station with Airflow Prophylaxis Master.
Technical data
E.M.S. Electro Medical Systems S.A., Chemin de la Vuarpillière 31, 1260 Nyon, Switzerland