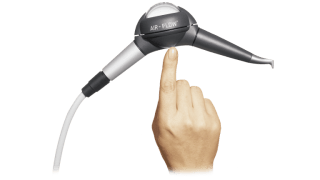 no
PERFECT BALANCE AT YOUR
FINGERTIPS
Innovative design meets Swiss precision: The AIR-FLOW® HANDY 2+ represents the classic mobile device system: It's specifically designed for powders with a 40µm grain-size, effectively removing Biofilm, stains and other partially-mineralized deposits in hard-to-reach areas. In addition to oral hygiene and prophylaxis, the AIR-FLOW® HANDY 2+ has a wide range of clinical applications, from orthodontic care to implant maintenance.
During the early development stages of the handpiece, a simple and intuitive design was selected for greater reliability and ergonomics. The AIR-FLOW® HANDY 2+ comes with a high-precision spray and a 360° rotating tip. At the same time, it can be a real eye-catcher – it earned the prestigious Red Dot Design Award for design and innovation in the field of Science and Medicine.
Gentle air polishing
For the removal of soft deposits
Designer handpiece available in orange, blue and grey
No cumbersome installation – simple plug-and-play system
Easy cleaning and maintenance
120° nozzle for general use
360° nozzle rotation
High-volume powder chamber
Time-saving
Compatible with all commonly used turbine couplings
---
The original AIR-FLOW® treatment
Gentle removal of soft tooth deposits with air, powder and water – without scratching the tooth surface.
---
DOWNLOADS
AIR-FLOW®
HANDY 2+
Technical data
E.M.S. Electro Medical Systems S.A., Chemin de la Vuarpillière 31, 1260 Nyon, Switzerland
0.7 to 2.2 bar (70 to 220 kPa)
3.5 to 4.5 bar (350 to 450 kPa)
+10 °C to +40 °C
30% to 75% relative humidity
Storage and transport conditions
-10 °C to +40 °C
10% to 95% relative humidity
500 hPa to 1060 hPa air pressure