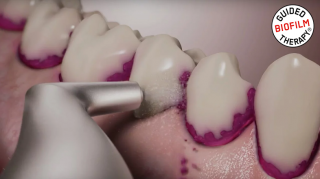 no
Initial Soft Tissue Healing Showed No Difference
An interview with Prof. Dr. Ulrich Schlagenhauf about current research results and publications on the use of AIR-FLOWING® in periodontal therapy
Airpolishing or even AIR-FLOWING® is used successfully not only for prevention in many dental practices, but also in periodontal therapy. (…) Prof. em. Dr. Ulrich Schlagenhauf, the internationally renowned periodontist and former head of the Periodontology Department at the University Hospital of Würzburg, has conducted research on periodontitis and periodontal therapy for decades.(…) AIR-FLOWING® is the concept developed by the EMS company as a synergy of the AIRFLOW® Prophylaxis Master, the corresponding handpieces and the erythritol-based AIRFLOW® PLUS Powder. In the interview with Dr. Klaus-Dieter Bastendorf, Esslingen, and Uwe Meyer, Member of the Board of Directors at EMS (Nyon/Switzerland), Schlagenhauf spoke in spring of 2022 about the results of the study and the possible applications of airpolishing in periodontal therapy. Read now the whole interview, that was published November 18th 2022 at Quintessence News online in English.
PERI-IMPLANTITIS AND ITS PREVENTION IN 3D
EMS partnered with Quintessence Publishing to create an exclusive 3D animated movie which successfully conveys the essentials of cell-to-cell communication, visualizing the invisible yet fascinating world of signals and signaling within the human body.
Effective prevention and management of peri-implant diseases can be achieved with Guided Biofilm Therapy. During the maintenance phase, use of AIRFLOW® technology with erythritol PLUS Powder to remove biofilm supragingivally from the prosthesis and subgingivally around the peri-implant sulcus. In patients with peri-mucositis, use of AIRFLOW® therapy with erythritol based PLUS Powder can prevent the disease from progressing into peri-implantitis. In patients with deeper probing depths (more than 4mm) or with peri-implantitis, use of the PERIOFLOW® Nozzle with Erythritol based PLUS Powder removes biofilm efficiently from the implant threads. PERIOFLOW® technology not only decontaminates but also preserves the integrity of the implant surface.