AIRFLOW®
AIRFLOW® with PLUS powder removes biofilm from veneers, crowns and aesthetic restorations in a safe and efficient way.
AIRFLOW® PLUS powder does not scratch and is not abrasive to any aesthetic restoration.
AIRFLOW® PLUS is extremely fine and gentle and can be safely and comfortably applied around sensitive gingiva
AIRFLOW® PLUS powder is ideal to clean around margin edges on crowns, veneers, overlays and onlays.
It should be used prior to bleaching, placing restorations and taking impressions.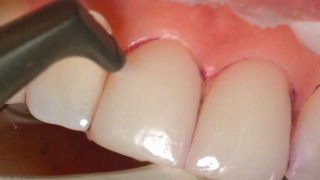 PRE­PAR­A­TION AND MAIN­TEN­ANCE OF RES­TOR­A­TIONS
The Eryth­rit­ol based PLUS powder cleans ven­eers without dam­aging or al­ter­ing the sur­face. It's the ideal solu­tion to min­im­ize the risk of re­ces­sions caused by hand in­stru­ment­a­tion and other in­vas­ive meth­ods.