ORIGINAL PERIOFLOW®
HANDPIECE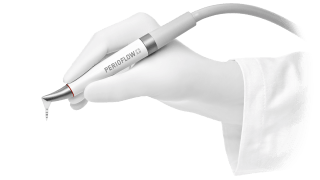 no
The PERIOFLOW® handpiece represents the state-of-the-art technology for periodontal biofilm removal. Indeed, with its flexible nozzle and lightweight body it provides the perfect amalgamation of ergonomics and function with a sleek pen-style grip that significantly reduces hand fatigue and wrist injuries. Designed with a unique medical-grade, thermo-disinfectable resin body, the PERIOFLOW® handpiece delivers the highest standards of clinical hygiene. What's more, the PERIOFLOW® handpiece provides a minimal-invasive treatment of periodontal pockets thanks to its uniform trilateral powder spray. It's ideal for supportive periodontal therapy (SPT), primary and secondary prevention as well as implant maintenance and non-surgical treatment of peri-implantitis & periodontitis.
Effective removal of biofilm down to the deepest periodontal pockets (pockets from 4mm – 10mm)
Sustained bacterial reduction
3 horizontal outlets for air-powder and 1 apical outlet with water for maximum safety and 360° efficacy
Lightweight with pen-style grip for lower hand fatigue
Millimeter depth markers for controlled application (3mm-5mm-7mm-10mm)
Thermo-disinfectable for clinical sterility
Medical-grade resin body for high durability
Drop-free system upon deactivation
Clog-free
Improved ergonomics with sleek design for greater visibility and accessibility
1 PERIOFLOW® Handpiece
2 10 nozzles – ideal for biofilm removal in periodontal pockets and implant surfaces - recommended depth: >4 to 9mm pockets
3 Endochuck – for the insertion of the PI PEEK instrument and other endo-files
4 PI PEEK instrument – Polyether Ether Ketone plastic for gentle implant maintenance
5 Tip measurement set
---
ORIGINAL PERIOFLOW®
HANDPIECE
AIR-​FLOW®
EASY CLEAN
AIR-FLOW® AND PERIO-FLOW®
HANDPIECES MAINTENANCE
Original AIR-FLOW® and PERIO-FLOW® handpieces don't clog if exclusively used with Original AIR-FLOW® Powders and maintained correctly according to the user manual. EMS recommends that the air-powder tubing inside the AIR-FLOW® and PERIO-FLOW® handpieces should be cleaned after each use before sterilization.
AIR-FLOW® EASY CLEAN quickly blows out any foreign substances with a jet of water. 10 sec of time to ensure correct maintenance of your original handpiece.
Simply plug a syringe into the back of the EASY CLEAN device, aspirate water, connect the EASY CLEAN into your disconnected handpiece and push. The cleaned tubing is then to be dried with compressed air before being sterilized.
ORIGINAL PERIOFLOW®
HANDPIECE