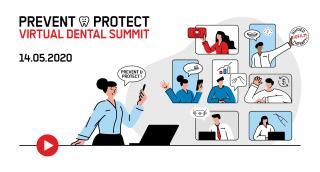 no
STAY UP TO DATE WITH THE FIRST EDITION OF THE
PREVENT & PROTECT

WEBINAR SERIES!

Register for free now and join us on the 14th of May for a full day of live virtual event. The goal of the Summit is to bring together dental professionals from around the world to share new strategies, insights and tactics about COVID-19 as it relates to you and your dental practice now and during the recovery phase.
Virtual

interaction, best practice sharing, tips & tricks and the latest findings

Live & on-demand

Questions and Answers
9.30am – 10.20am CET
'Technical aspects of aerosols in dentistry'
Dr Marcel Donnet
Due to the current COVID-19 crisis, many questions arise about aerosols produced by prophylaxis dental procedure namely AIRFLOW or PIEZON. Unfortunately, the real meaning of aerosol is often poorly understood and leads to misinterpretations.
The aim of this presentation is to clarify the aerosol understanding in order to evaluate deeper the real risks related to aerosols generated by AIRFLOW or PIEZON systems.
10.30am – 11.20am CET:
'Effective Reduction of Aerosol in Clinic'
Faye Donald
Research has shown that aerosols generated during mechanical Dental Prophylaxis procedures can be reduced by as much as 95% IF and when the correct technique is implemented. As we all look for a safe and successful return to practice, this webinar aims to clearly outline the best techniques for High Volume Suction when using airflow & GBT as well as outlining definitive guidelines on the type & size of aspirator tips and the power required for effective use.
11.30am – 12.20am CET:
'Is there a connection between oral health and complications arising from COVID-19?'
Dr Victoria Sampson
Following the publication of Dr. Sampson's findings in the British Dental Journal this April, she will be addressing the topic of how and why there is a connection between the oral microbiome and complications arising from COVID-19.
She will touch on how the oral microbiome connects all of the established risk factors for developing complications from COVID-19 and how we as the dental industry can promote oral hygiene during this pandemic and motivate our patients to maintain their oral health during after this pandemic. She will also discuss further research that she is conducting within this field.
12.30pm – 13.20pm CET:
Carmen Lanoway
Many dental practices around the world closed during the past weeks due to the Corona Pandemic. Now as offices are getting back to work there has been many discussions about dental aerosols.
This webinar will clear up some confusion and hopefully take away some of the fear of dental aerosols. Protecting not only us but also our patients.
13.30pm – 14.20pm CET:
Business model and profitability of prophylaxis during and after COVID-19
Celso Da Costa
As dental practitioners we see ourselves as clinicians, educators, patient advocates and even feel like therapists, but there is one aspect that many of us shy away from, the business of dentistry. Dentistry is a medical service, and it exists to provide valuable care to its patients, but it also exists to produce a profit. Without profit, the business, and its valuable service to patients would cease to exist.
Dental prophylaxis can help us develop a profitable business model with the highest level of comfort, safety and efficiency, becoming really important in the developing of prophylaxis and working as an amazing practice builder. In this webinar we will find a new way to do prophylaxis with the Guided Biofilm Therapy (GBT), how it can change your practice workflow and the great results from doing this. Also, we will show you how to use GBT during Covid-19 and how it can helps to build your practice after the Covid-19 crisis.
14.30pm – 15.20pm CET:
Teledentistry and Prevention in the Dentistal Industry
Prof. Magda Mensi
The COVID 19 pandemia have changed completely our way to work in Dentistry. Not only pin terms of PPE, triage, social distances but also in the time and cost management. Different workflow needs to be put in place to avoid long waits in the waiting room, to minimize the numbers of appointments for the patient and managing part of the work on line.
So, the crisis gave us an opportunity to educate our patients in using video and phone technologies for receiving diagnosis, at home therapies and suggestions and for having a direct contact with us by short teleconference. During the webinar I will explain my experience and the different protocols we are testing to manage a periodontal patient from the screening to the supportive therapy after surgery. Dental Hygienists play an important role in this new approach

no