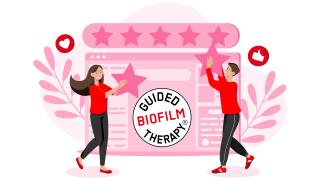 no
WORLDWIDE SURVEY CONFIRMS:
GBT IS THE ABSOLUTE FAVORITE AMONG PATIENTS
How do patients rate their GBT treatment?
The Guided Biofilm Therapy (GBT) protocol stands for success, quality, motivated practice teams and excellent patient acceptance.
A worldwide survey of 76,338 patients has now confirmed the outstanding patient satisfaction and found that 92% of all patients surveyed are enthusiastic about GBT and will recommend the GBT treatment to family and friends.
This question and many more were summarized in a detailed evaluation of the survey by Dr. Koch. The article was published in the German journal "Zahnheilkunde Management Kultur" (ZMK). Find out more details about the patient survey and read the full article!