ORIGINAL AIRFLOW®
MAX HANDPIECE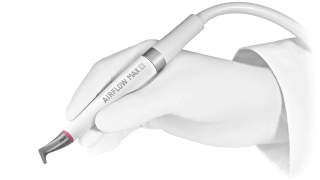 no
AIRFLOW® MAX –

MAX EFFICIENCY. MAX COMFORT. MAX SAFETY.
AIRFLOW®, the cornerstone of GUIDED BIOFILM THERAPY, completely redesigned to bring a new level of efficiency, comfort and safety.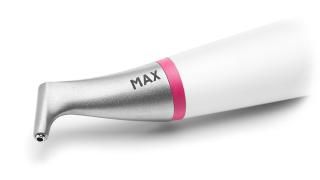 no
The more I use AIRFLOW® MAX on a variety of surfaces and patients, the more I am amazed at how much easier and faster it removes sticky, adherent biofilm.
GUIDED LAMINAR AIRFLOW® TECHNOLOGY
The revolutionary design from the original AIRFLOW® inventor featuring NEW GUIDED Laminar AIRFLOW® technology, a precise synergy between air, powder and water that reaches a new level of safety, efficiency and comfort for patients and clinicians. This is the MAX trilogy.
GUIDED LAMINAR AIRFLOW® TECHNOLOGY enables water and AIRFLOW PLUS Powder particles to travel in a highly organized manner in straight paths, eliminating unwanted turbulence and chaotic patterns.
These fully controlled and highly precise laminar flows reach hit the treatment surface in a perfectly smooth an accurate and focused linear pattern to maximize powder use and visibility of the treatment area.
NO CHAOS. NO TURBULENCE.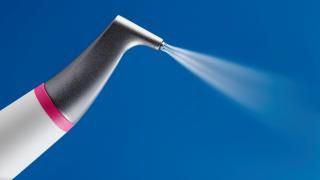 no
AIRFLOW® MAX + POWDER PLUS =
WINNING SOLUTION — ONE POWDER ONLY FOR 90% OF ALL CASES
The 14μm sized AIRFLOW PLUS Powder is a high-tech powder which removes biofilm and early calculus an a minimally invasive way from all types of surfaces supra- and subgingivally:
enamel
dentine
soft tissue
tongue and palate
primary teeth
orthodontic appliances
implant surfaces
restorations
---
Unmatched and a patented nozzle outlet.
A unique hexagon design that reduces aerosol splatter during the treatment*. 'I FEEL GOOD' experience – Clinicians love it as it feels like a feather!
How? The unique design allows a fully controlled water spray, minimal bounce back effect from oral cavity.
*Minimizes aerosol splatter when used with the correct technique, high vacuum suction, Optragate® (an Ivoclar product), and a suitable mouth rinse such as BacterX®.
Precisely staged powder channel
A new powder channel design that provides the ultimate combination of maximum efficiency with shorter treatment time* to reduce powder consumption and increase profitability.
How? The powder channel allows a fully controlled powder flow and generates a higher acceleration of the powder particles within the nozzle. Its enlarged outlet captures 32% wider treatment surface area.
*Compared to current AIRFLOW® Handpiece
Slim and light body
Confirmed ergonomics design with slimmer grip and reduced weight reduction* that enhances ease of use and clinician comfort during prolonged use. Fully controlled water spray and powder flow provide optimal visibility of the treatment area and amazingly noiseless experience!
How? Lighter body combined with a thinner diameter in the finger location facilitates grip and maneuvering during treatment to diminish discomfort generated by intensive use. GUIDED LAMINAR AIRFLOW® TECHNOLOGY enables water and AIRFLOW PLUS Powder particles to travel in a highly and fully organized manner.
*up to 30% weight reduction compared to historical AIRFLOW® Handpiece.
Noise reduction
This innovation is much more efficient and amazingly noiseless!*.
*3x less operating noise at recommended device settings.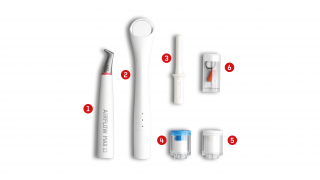 no
no
1 AIRFLOW® MAX Handpiece
2 Mirror suction cannula
3 Easy Clean – for the daily Handpiece maintenance, effective powder-clogging removal
4 Water filter – for yearly filter change, recommended for users with grid water-supply
5 Air filter – for occasional change, recommended when the air-filter becomes dark
6 Maintenance set – Handpiece o-ring replacements
BOOK A

FREE GBT


DEMO

Discover the Guided Biofilm Therapy in your practice.
THE ORIGINAL AIRFLOW® TREATMENT
Discover Step 04 AIRFLOW® of the Guided Biofilm Therapy
ORIGINAL AIRFLOW®
MAX HANDPIECE
ORIGINAL AIRFLOW®
MAX HANDPIECE