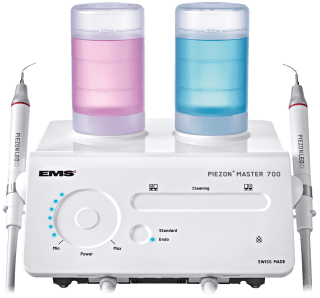 no
YOUR COMPLETE ULTRASONIC
DEVICE
The PIEZON® Master 700 provides a fast, professional and minimal-invasive calculus removal, eliminating biofilm and other mineralized deposits thanks to its cavitation and acoustic streaming effects. The unit has a multi-functional pedal and a touch-panel interface with blue LED lights to regulate the power & irrigation settings. It also features the award-winning RED DOT design and an automatic cleaning system that purges fluid lines for greater hygiene standards and durability.
NO PAIN*.
MORE COMFORT.
Together with the PIEZON® NO PAIN technology and its dynamic power response, the PIEZON® Master 700 is able to deliver 32,000 linear oscillations per second without any lateral deflection, providing a comfortable and high-precision treatment. The PIEZON® NO PAIN module is the ultimate standard when it comes to ultrasonic scaling: it automatically increases power when resistance at the tip increases and automatically decreases power when resistance at the tip decreases. All this combines to give an intelligent and intuitive technology that respects the tooth's natural structure.
The PM 700 has two different modalities: the 'Standard' ultrasonic mode and the 'Endo' mode. The 'Endo' setting has been specifically designed for deep cavity endodontics as it reduces the power curve to deliver a more delicate treatment. The device also has the ability to switch between liquid containers, allowing for the use of different solutions throughout a therapy without ever having to change bottles - all with one touch.
*When used correctly (according to SDA) and with the Original Swiss INSTRUMENT PS
PIEZON® NO PAIN TECHNOLOGY →
EMS SWISS INSTRUMENTS
A MIX OF INTELLIGENT TECHNOLOGY AND UNEQUALED PRECISION MAKES THE DIFFERENCE
DIFFERENTIATED POWER = MULTIPLE TREATMENT APPLICATION
> Gentle and comfortable for endo applications
> Intelligent power output feedback control
> More power for restorative procedures
> Optimum instrument control and efficiency in all applications
NO PAIN®
Dynamic power response providing a high-precision & predictable treatment outcome.
Two Modalities
Quick and easy change between Standard and Endo mode
Multifunctional
Multifunctional pedal with boost function, including water-only and air-only functions
Power Control
17 power levels to choose from with intuitive touch and feel. Perfectly adaptable to individual clinical requirements for the removal of calculus and partially mineralized deposits
THE ORIGINAL PIEZON® METHOD DELIVERS CONTROLLED OSCILLATING ACTION ALIGNED WITH THE TOOTH SURFACE
> Gentle treatment for uniform surface roughness with minimum abrasion of tooth surface
> Easy to use due to clearly linear oscillating action and intelligent feedback control
> Efficient delivery due to 32,000 movements per second as well as cavitation and acoustic streaming
> Maximum retention of the oral gingival epithelium and virtually painless treatment due to optimized instrument movement
PIEZON® NO PAIN TECHNOLOGY MATCHED TO ORIGINAL PIEZON® HANDPIECE LED AND EMS SWISS INSTRUMENTS →

UTMOST PATIENT COMFORT
---
1 ORIGINAL PIEZON® HANDPIECE WITH LED >Optimum visibility due to circular light emission >Lightweight and ergonomic >Metal cap for controlled precision >Sterilizable up to 135° C >Two handpieces for double efficacy
2 PIEZON® NO PAIN TECHNOLOGY >Optimum instrument movements >Intelligent feedback control >Precise treatment results >Utmost patient comfort
3 EMS SWISS INSTRUMENTS PM >Each with CombiTorque® for steady handling >Broad scope of application >Swiss-quality development and manufacturing
4 LIQUID CONTAINER >Volume 350 or 500 ml >UV ray-resistant >100 ml markings for easy filling >Easy to install
5 CORD >Direct control of flow amount >Removable from unit and handpiece >Flexible and long-lasting
6 INSTRUMENT HOLDER >Magnetic, removable
7 TOUCH PANEL >Fast and precise settings >Easy-to-read controls >Hygienic
8 POWER >LED settings in 17 increments for individual clinical requirements >Clear and easy to understand
9 WORKING MODE >Choice of Standard and Endo >Automatic memory function
10 BOTTLE SELECT >Easy switching between two solutions >Selected bottle lights up
11 CLEANING MODE >Automatic >Cleaning progress display
12 DRY WORK CONTROL LED >Illuminates when used without liquid
PEDAL >Multifunctional foot control for controlled work with integrated boost function
APPLICATIONS:
PIEZON®
Handpiece
After using AIRFLOW®, remove remaining supra and subgingival calculus with the PIEZON® NO PAIN PS instrument.
---
PIEZON MASTER 700
BROCHURE
---
Maintenance videos:
Clean fluid system
After each treatment: Clean the fluid system.
Clean and disinfect
Once a day: Clean and disinfect the fluid system.
Replace pump
Annually: Replace the pump.
Technical data
Headquarters Nyon, 1260 Nyon, Switzerland
Class I
Applied part, Type BF
IP 20 unit
IP X1, footpedal
Duty cycle 10% during 10 min. maximum
Power consumption (max)
80W
T 1.6A 250VAC || (ø 5 x 20 mm, time delay, low breaking capacity)
+10 °C to +40 °C
30% to 75% relative humidity
Altitude max. 3000 m
Storage and transport conditions
-10 °C to +40 °C
10% to 95% relative humidity
500 hPa to 1060 hPa air pressure