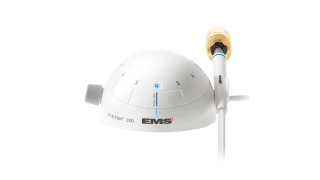 no
compact and
easy to use
The PIEZON® 150 is the first of its class when it comes to direct-waterline devices. It carries the standard PIEZON® module with an ultrasonic performance of 32,000 linear oscillations per second, providing an efficient calculus removal and maximum precision. It has a compact design, taking up very little space in the office, with an intuitive power-control interface. Equipped with six LED that deliver daylight quality, the PM 150 is ideal for hard-to-reach cavities and pockets.
Effortless one-finger power-control
Lightweight and non-encombrant
Practical LED power regulation with daylight quality
Precise linear oscillation for predictable clinical outcomes and patient comfort
Gentle Perio power range
Water supply via fixed water connection
Ergonomic handpiece with pen-style grip
APPLICATIONS:
PIEZON®
Handpiece
After using AIRFLOW®, remove remaining supra and subgingival calculus with the PIEZON® NO PAIN PS instrument.
---
Work more efficiently
For increased productivity
Linear movements
For improved patient comfort
---
The original PIEZON® treatment
---
1
Original PIEZON® LED handpiece or original PIEZON® handpiece
3
EMS SWISS INSTRUMENTSPM A, P, PS - each in CombiTorque®
1
Two-step 360 ° foot switch
Technical data
E.M.S. Electro Medical Systems S.A., Chemin de la Vuarpillière 31, 1260 Nyon, Switzerland
Class II
Applied part, Type BF
IP 20, unit
IP X1, foot pedal
Duty cycle 10% during 10 min. maximum
+10 °C to +40 °C
30% to 75% relative humidity
Storage and transport conditions
-10 °C to +40 °C
10% to 95% relative humidity
500 hPa to 1060 hPa air pressure