ORIGINAL AIRFLOW®
HANDPIECE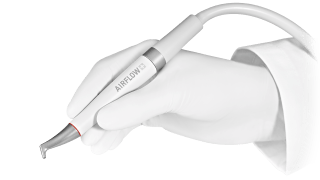 no
The AIRFLOW handpiece is the state-of-the-art technology when it comes to oral hygiene and dental prophylaxis. Thanks to the use of medical grade materials and its thermo disinfectable resistance, the new generation of handpieces are geared towards premium quality and high durability. With a powder jet reaching more than 400 km/h, the AIRFLOW handpiece provides an effective kinetic energy whilst keeping a uniform spray pattern for predictable treatment outcomes. For maximum efficiency and minimal aerosol dispersion, water and powder meet upon impact with the tooth. The AIRFLOW handpiece separates the air and water channels giving the opportunity to regulate water and powder flow with high precision. With its sleek lightweight design the AIRFLOW handpiece provide users with a comfortable pen-like grip for great dexterity and an easy access in hard-to-reach areas. As EMS' dedication to innovation and service continues to grow, a new revolution is just around the corner.
120° angulation with thin handpiece nozzle for better visibility and accessibility
Medical grade resin body for high durability
Thermo-disinfectable and clinically sterilizable
Sleek design for greater dexterity
Clog free
Lightweight and well-balanced body to reduce hand fatigue
Improved ergonomics with pen-style grip
High-quality powder flow
Uniform spray pattern
Drop free system upon deactivation
Ideal for long working-hours
Stress-free and comfortable for the patient (no curettes – no noise!)
Gentle application of kinetic energy
No scratching of the tooth surface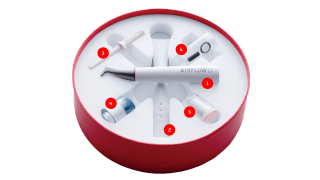 no
1 AIRFLOW Handpiece
2 Mirror suction cannula
3 Easy Clean – for the daily Handpiece maintenance, effective powder-clogging removal
4 Water filter – for yearly filter change, recommended for users with grid water-supply
5 Air filter – for occasional change, recommended when the air-filter becomes dark
6 Maintenance set – Handpiece o-ring replacements
---
ORIGINAL AIRFLOW®
HANDPIECE
Clean your handpieces after each treatment using your EASYCLEAN. This removes any remaining powder. Use your handpieces only with the Original AIRFLOW powders. This will prevent unnecessary clogging.
EASY CLEAN is compatible with all original AIR-FLOW and PERIO-FLOW® handpieces.
ORIGINAL AIRFLOW®
HANDPIECE