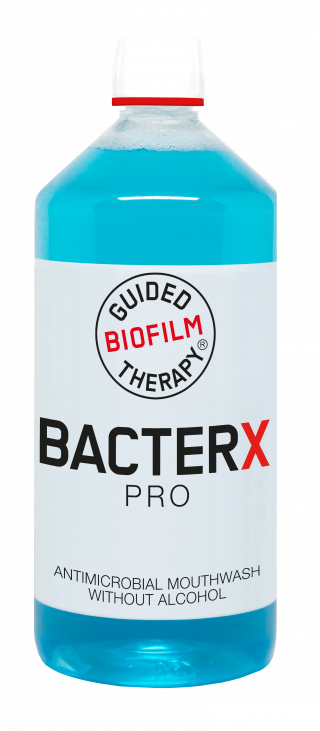 no
YOUR MODERN
RINSING SOLUTION
The new Bacter X Pro provides dental professionals with a great taste and an effective removal of bacteria, significantly reducing bacterial count and aerosol contamination.
The new revamped formula has been specifically designed for pre-surgery and prophylaxis treatments, catering to almost all patient types.
The Bacter X Pro is available with or without added-alcohol.

CONTAINS:
Chlorhexidine Digluconate (CHX) 0.1%
Cetylpyridinium Chloride (CPC) 0.05%
Sodium Fluoride 0.01% (Fluoride 0.005%)
Promotes healthy teeth and a fresh breath
Combats harmful biofilm, plaque and caries
Reduces biofilm in professional dental units and bacterial count in aerosol
Pleasant taste
Available with or without Alcohol
LINKS AND DOWNLOADS
BACTER X PRO